(513) 318-4601
Serving Cincinnati and Tri-State Since 2001
1054 MONROE RD., SUITE 102 LEBANON, OH 45036
Intermediate collection

Tough. Dependable. Long-Lasting. Few doors in your home get more use than your garage door—it truly is the biggest door in your house.
More than any other door, it needs to work dependably and stand up to the elements for years on end. Built to meet these challenges—and look good doing it—C.H.I. garage doors give you a wide range of options that fit your home's individuality and help you maintain your investment in it.
2240/41, 4240/41
For a traditional-looking, heavy-duty steel door, the 2240/41 and 4240/41 models are truly among the best around. Available in five designer colors, it is an attractive top-of-the-line door that will both compliment the looks of your home and provide dependable protection for many years. Designed to accompany a wide variety of home styles, this heavy-gauge model is fit for a long life.
Long Panel (4240/41)

8′ wide

9′ wide

10′ wide

11′ wide

12′ wide

13′ wide

14′ wide

15′ wide

16′ wide

17′ wide

18′ wide

19′ wide

20′ wide
Short Panel (2240/41)

8′ wide

9′ wide

10′ wide

11′ wide

12′ wide

13′ wide

14′ wide

15′ wide

16′ wide

17′ wide

18′ wide

19′ wide

20′ wide
AVAILABLE COLORS

WHITE

ALMOND

SANDSTONE

BROWN

EVERGREEN
WINDOW INSERTS
2250/51/55 – Raised Short Panel

2-4 Piece Sunburst

Cathedral

8 Piece Sunburst

Sherwood

7 Piece Sunburst

Stockton

6 Piece Sunburst

Cascade

5 Piece Sunburst

Mission

Waterton
4240/41 – Raised Long Panel

2-2 Piece Sunburst

Sherwood

4 Piece Sunburst

Stockton

3 Piece Sunburst

2-2 Piece Arched Stockton

Cascade

Madison

Mission

2-2 Piece Madison

Waterton
DESIGNER LITES
All Designer Lites are either transparent or semi-transparent.

V-Groove Sunburst

V-Groove Diamond

V-Groove Cathedral

Obscure

Plain Glass
Somerset Short

Somerset Long

Hawthorne Short

Hawthorne Long
Call Locally for Northern Kentucky and Cincinnati Garage Door Service:
513-318-4601
Call Locally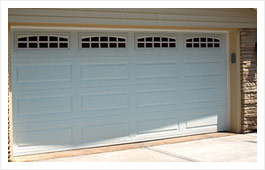 C.H.I. Overhead Doors
Intermediate Collection
Technical Data
Door sections are formed from heavy, 24-gauge galvanized draw quality steel
Section joints are roll-formed into a tongue-and-groove design which produces a superior weather seal
Bottom weather seal utilizes an aluminum retainer and extruded virgin vinyl
Long-lasting rollers assure consistent, quiet and efficient operation
Inside stiles are made of galvanized steel and stile holes are "dimpled" for increased holding power
Extension or torsion springs are individually computer-calibrated to lift your door
Extra-heavy paint system consists of .25 mil. primer with rust inhibitor and a .75 mil. coating of baked-on polyester paint in your choice of white, almond, sandstone, brown or evergreen
Hinges are stamped from galvanized steel in a "wide body" pattern for greater stability and longer life
Optional latching lock system opens easily from inside or outside
Models 2241/4241 include 1-3/8″ polystyrene insulation with a vinyl back cover
Models 2241/4241 R-value – 6.85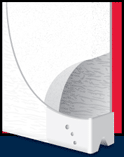 Door Insulation
These models utilize 24-gauge exterior steel skin with 1-3/8″ thick polystyrene foam insulation with a vinyl back cover.
2241/4241
R-value – 6.85